Swiss steaks-Turn Tough steaks into Tasty & Tender Entrees
Beef Steaks for Swissing are generally steaks that are not very tender unless they are cooked slowly in moist heat. They can be tenderized with a mallet, or the butcher can run them through his tenderizer a couple of times. They are now called cubed steaks. Flour them up and fry them in hot grease for chicken fried steak. click here for chicken fried steak recipe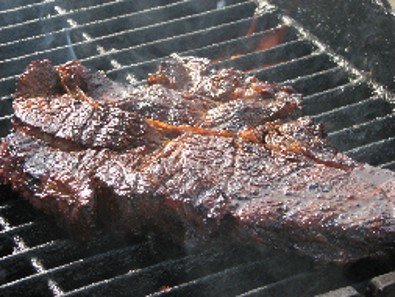 Grilled Chuck Steak & Marinade Recipe
Chuck Steak Boneless
There is nothing cheaper than a boneless chuck steak when it is on sale, except maybe a bone-in chuck steak on sale. The chuck steaks make outstanding Swiss steaks and, when marinated, can be grilled as well.
Bottom Round Steak
Bottom Round steaks cut from the full cut round are generally tough. They are nice and lean and if cooked with moisture will become nice and tender. A very good Swiss steak.
Top round Steak
Top round steaks are cut from the full cut round and make outstanding Swiss steaks. They are very lean and will become tender with moist heat. They also make very nice chicken fried steaks if ran through a tenderizer machine a couple of three times. Ask your butcher for assistance or take them home and take out your aggressions on them with a meat mallet.
Eye of Round Steak
The eye of round cut from the full cut round are a very nice steak for Swissing or for chicken fried steak. Have the butcher tenderize them for you for chicken fried or cook with moist heat as you would for Swissing.
Cross Rib Steak
The cross rib steak is a great steak for Swissing and not bad for marinating and then grilling. It can be chewy when grilled but has great flavor. The only real problem with the cross rib steak is that it is usually way overpriced. Next time a cross rib roast is on sale ask the butcher to cut one into steaks for you. Now you have some nice steaks for Swissing at a good price
Mock Tender Steak
The mock tender is round and lean and looks something like a fillet but eats more like a hockey puck. Of course, marinating can help, as does Swissing or running it through a tenderizer machine.
Full Cut Round Steaks
Full cut round steaks are a great Swiss steak. They are big and lean and with moist cooking will cook up nice and tender with good flavor. They are often on sale and are a very good value.