Grilled Lime-Cilantro Chuck Steaks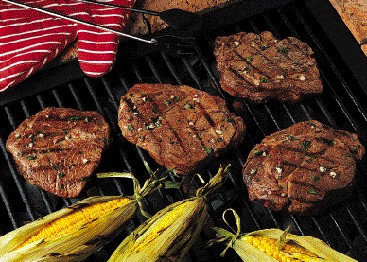 Marinating time: 1 to 2 hours
1-1/4 lb well-trimmed boneless Beef chuck eye steaks, 1" thick
Marinade: 3 Tbsp fresh lime juice
3 Tbsp water
1 Tbsp chopped fresh cilantro
1 small jalapeno pepper
chopped 1 large clove garlic
crushed 1/4 tsp ground cumin
1. Combine marinade ingredients. Place Beef steaks and marinade in plastic bag, turning to coat. Close bag securely and marinate in refrigerator 1 to 2 hours, turning occasionally.
2. Remove steaks from marinade; discard marinade. Place steaks on grid over medium, ash-covered coals. Grill, uncovered, approx. 16 to 20 minutes for medium-rare to medium doneness, turning occasionally.
3. Carve steaks into thin slices; season with salt and pepper as desired. 4 servings.
Source: National Cattlemen's Beef Association