Heart-Shaped-Pizza
Heart-shaped-pizza! A great way for the whole family to celebrate Valentine's Day!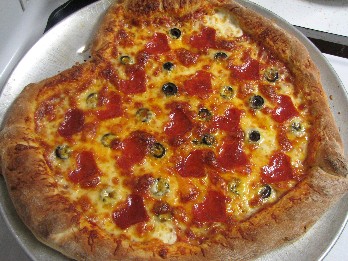 Makes 4 pizzas(recipe for a single pizza is included down below)
1 batch of homemade bread dough (see below)divide into 4 balls, then shape into hearts if desired ( see pictures below)I even stuffed the crust this time and cut the pepperonis into cute little hearts
4 small cans of tomato sauce
1 Spaghetti sauce packet
1 teaspoon sugar(dried onions, garlic, additional Italian seasons to taste or optional)
3 lbs cheese grated- 2 lbs mozzarella, 1 lb cheddar
Toppings:
Hamburger
Italian sausage
Pepperoni
Pineapple
Olives
Mushrooms
Onions
Divide the dough into four balls and roll out each and place on greased pizza pans. Spread with prepared sauce. Sprinkle with cheese and top according to your pleasure. Bake at 400 degrees for aprox 15 minutes or until top edge and bottom crust is browned. I like to roll out two pizza and have them cooking while I prepare the remaining two pizzas. I also rotate the pizzas from bottom to top rack half way through the baking process ( aprox 7 minutes) so they brown evenly.
BBQ Bacon & Chicken pizza
Substitute BBQ sauce for the flavored tomato sauce. Heat the BBQ sauce on the stove until warmed through.. Top with small cooked chicken pieces- diced or shredded and crumble crisp bacon and sprinkle on top.
Stuffed Crust
Cut 1 lb of mozzarella cheese into sticks. Roll out the pizza dough larger than the pan. Place the cheese around the edge of the pan and roll the outside edge over the cheese and pinch shut.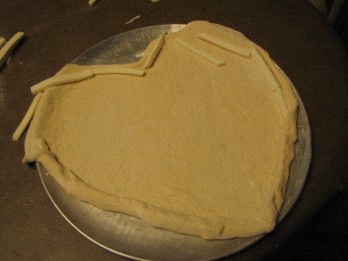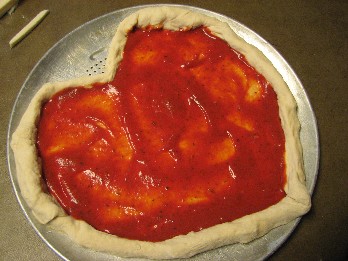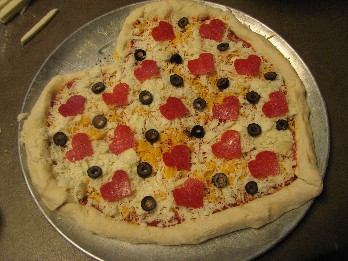 Click here to see my video demo on making pizza hearts



Click here to learn about Italian Salami and related meats straight from a real Italian cook !