Quick and Easy Chicken Stirfry Recipe
2 lbs boneless, skinless chicken breast
1 onion, sliced
1 red pepper, sliced
1 yellow pepper, sliced
1 green pepper, sliced
1 fajitas seasoning packet
salt and pepper to taste
oil or chicken broth for sauteing
Cut chicken into short strips. Saute in hot pan using oil or chicken broth so it won't stick. As chicken becomes white, add vegetables and saute until veggies are tender.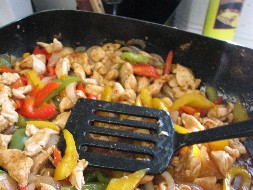 Add seasoning packet and 1/2- to 1 cup of water. Cook until the liquid in the bottom of the pan becomes thickened, like gravy. Add additional water if desired.
I serve this easy chicken stir fry over rice. I simply microwaved some leftover rice to make this dinner ready in about 30 minutes
If you have leftovers you can warm it up for fajitas the next day by wrapping in flour tortillas.