Easy Beef Stroganoff Recipe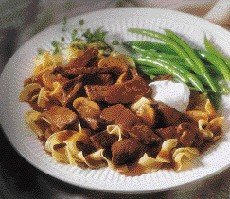 You can make this easy beef stroganoff recipe in only 25 MINUTES
1 lb Beef round tip steaks, 1/8" to 1/4" thick
4 cups (5 oz) uncooked wide egg noodles
4 tsp vegetable oil, divided
1 clove garlic, crushed
1/2 lb sliced mushrooms
1 pkg. (3/4 oz) brown gravy mix
1/4 cup dairy sour cream
1. Cook noodles according to package directions; keep warm.
2. Meanwhile stack Beef steaks; cut lengthwise in half and then crosswise into 1"-wide strips.
3. In large nonstick skillet, heat 2 teaspoons oil over medium-high heat until hot. Add Beef and garlic (1/2 at a time) and stir-fry 1 minute or until outside surface of Beef is no longer pink. (Do not overcook.) Remove from skillet; season with 1/4 teaspoon salt and 1/4 teaspoon pepper.
4. In same skillet, cook mushrooms in remaining 2 teaspoons oil 2 minutes or until tender, stirring occasionally; remove from heat. Stir in gravy mix and 1 cup cold water; bring to a boil. Reduce heat to low; simmer 1 minute or until sauce is thickened, stirring frequently. Return Beef; heat through. Serve over noodles with sour cream. 4 servings.
Source: National Cattlemen's Beef Association