Crescent-Topped Beef Pot Pie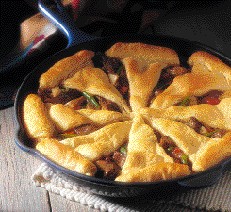 This recipe for CRESCENT-TOPPED BEEF POT PIE only takes 30 MINUTES to prepare
1 boneless beef top sirloin steak, 3/4" thick (approx. 1 lb)
Vegetable cooking spray
1 pkg. (16 oz) frozen potato, green bean, onion and red pepper mixture
1/2 tsp dried thyme leaves
1 jar (12 oz) mushroom gravy 1 can
(8 oz) refrigerated crescent dinner rolls
1. Heat oven to 375¡F. Cut Beef steak lengthwise into 2 or 3 strips and then crosswise into 1/2" thick slices. Spray 10" ovenproof skillet with cooking spray; heat over medium-high heat until hot. Add beef (1/2 at a time) and stir-fry 1 minute. Remove from skillet; season with 1/4 teaspoon pepper.
2. In same skillet, combine vegetables, 2 tablespoons water and thyme; cook and stir 3 minutes or until vegetables are defrosted. Stir in gravy; bring to a boil. Remove from heat; return Beef.
3. Separate rolls into 8 triangles; starting at wide ends, roll up half-way. Arrange rolls on Beef mixture with pointed ends directed toward center. Bake 17 to 19 minutes or until rolls are golden brown. 4 servings.
Source: National Cattlemen's Beef Association